Unfair: The Movie (2007) Subtitle English
Posted by lefthand88 on Sunday, July 5th, 2020
---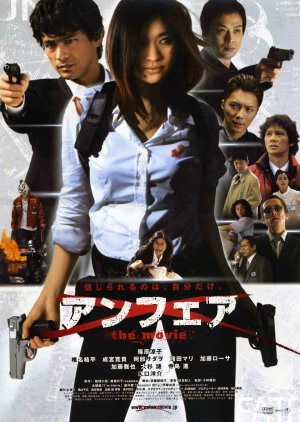 Type: Movie
Also Known As: Unfair – The Movie
Release Date: Mar 17, 2007
Duration: 1 hr. 52 min.
Sinopsis 
"Unfair: The Movie" menemukan Detektif Yukihira baru-baru ini dipromosikan ke Biro Keamanan Publik elit Departemen Kepolisian Metropolitan Tokyo, sebuah organisasi yang mirip dengan FBI atau NSA di AS. Setelah bertahun-tahun memusuhi mantan atasannya, Yukihira menemukan bos barunya, Kepala Administratif Jin Saiki, seorang yang berpikir seperti itu yang menghargai nilai inisiatif individu dan menghindari protokol ketika diperlukan.
Tetapi ketika Yukihira mulai mengintip ke dalam kematian ayahnya, seorang mantan polisi yang tewas dalam tugasnya, dia menemukan dirinya berada di jalur skema korupsi internal besar-besaran yang dapat mengarah ke tingkat tertinggi dalam hirarki polisi, membuat semua orang curiga . Sebuah bom mobil hampir mengambil nyawa putrinya yang memaksa Yukihira untuk akhirnya berpikir untuk meninggalkan pekerjaan itu untuk selamanya. Tiba-tiba, rumah sakit polisi di mana putrinya pulih disita oleh kelompok teroris anonim.
Ketika dua gelombang pasukan penyerangan khusus tewas dalam konflik, polisi menyadari bahwa mereka sedang berhadapan dengan kelompok yang sangat terorganisir dan terlatih baik dengan informan di dalam pasukan. Melawan pesanan, Yukihira masuk sendirian untuk menyelamatkan putrinya tetapi mendapati dirinya menghadapi ancaman biokimia yang menghancurkan, tanpa ada yang bisa dipercaya kecuali dirinya sendiri.
Download 
---
480p : GDrive | Uptobox | Files | Dorama
720p : GDrive | Uptobox | Files | Dorama
---
Subtitle