Kamen Rider Build the Movie: Be the One (2018) Subtitle Indonesia
Posted by lefthand88 on Saturday, February 16th, 2019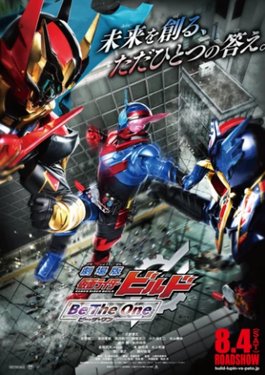 Title: Kamen Rider Build the Movie: Be the One
Screenwriters: Muto Shogo
Directors: Kamihoriuchi Kazuya
Release Date: Aug 4, 2018
Duration: 1 hr. 5 min.
Sinopsis
Setelah perang saudara yang mengobrak-abrik wilayah Touto, Hokuto, dan Seito, para gubernur baru dari masing-masing daerah bekerja sama untuk menyatukan kembali Jepang. Namun pada kenyataannya, mereka adalah bagian dari organisasi yang disebut "Blood Tribe", yang berniat untuk mengambil alih seluruh dunia. Mempertimbangkan Sento Kiryu / Kamen Rider Build sebagai ancaman besar terhadap rencana mereka, Suku Darah memulai rencana mereka dengan cara memanipulasi teman-temannya dan warga sipil lainnya untuk menyerangnya. Dengan bahkan Ryuga sekarang melawannya, Sento sekarang harus berjuang untuk bertahan hidup sambil mencoba menghentikan rencana Blood Tribe agar tidak berhasil.
Download
720p : GDrive | Uptobox | WSekai | Usercloud | Filescdn
480p : GDrive | Uptobox | WSekai | Usercloud | Filescdn
Subtitle